Automobile Accidents
When suffering from a personal injury stemming from the negligence of another individual or a company, generally you are entitled to recover monetary damages for pain and suffering, medical expenses, lost wages and other economic losses.
That is why it is important to have an injury lawyer by your side after suffering a personal injury. This only means that you are protecting your rights. It is best to have an attorney battle with the insurance company on your behalf than go through the frustrating process on your own.
Questions to Ask Yourself After Suffering a Personal Injury
1. What is the total cost of my medical bills?
2. Due to my injury, will there be a need for future medical care?
3. What is the extent of my injuries?
4. How will my injury affect my job?
5. How will my injury affect my family?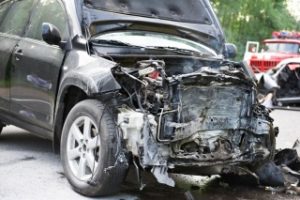 Injuries from an automobile accident can result in serious financial loss that can negatively affect those involved in the accident and their families. Even though stress arises from a car accident, the law provides recourse for injured parties. The injured party has the right to recover damages from the responsible party. Of course a monetary recovery cannot undo the pain and trauma caused by an injury, but it can assist in easing the resulting financial burden
What Causes an Automobile Accident?
Some accidents are unavoidable and are not due to the fault of either party.  However, most accidents occur because one party was at fault. The accident may have occurred because someone was texting or otherwise distracted, or simply because they did not apply their brakes in time to void a collision. In either case, the "at fault party" should be held responsible for any and all property and bodily damages suffered because of their negligence.
What are the Common Causes of Auto Accidents?
1. Texting while driving
2. Speeding
3. Drunk driving
4. Being Distracted
5. Defective equipment
Steps to Take After your Injury
After an accident do these things if you are injured, but not incapacitated:
1) Write down the name and badge number of the officer (this will make it easier to obtain an accident report).
2) Write down the name and phone numbers of anyone who witnessed the accident (other drivers, passengers, or bystanders).
3) Take photos of all vehicles involved in the accident. Also take photos of the surroundings that may indicate where the collision occurred. Be careful not to be re-injured by passing motorists.
4) Immediately seek medical attention. This may be in an ambulance, or private car of a trusted friend or relative.
5) Be sure the medical personnel or physician examine and document all injuries thoroughly. Keep copies of all diagnosis and treatments. Some of these may be: medications, treatments, scans, x-rays, tests, surgery, and various other procedures.
Finally, contact a personal injury attorney. This will give you the opportunity to set up a free consultation with the attorney. You may not always understand what is due you after an accident and what is required to optimize your claim.
What Will the Insurance Company Do After a Car Accident?
After an accident, insurance companies and adjusters will try to pressure you into giving them a recorded statement or getting you to sign paperwork. Remember, insurance adjusters are trained to perform a particular service for their respective insurance company. The main goal is to save the insurance company money and to pay you as little as possible. They know how to settle your claim for the smallest amount possible. They are not concerned about your injuries, damages or pain.
The other party's insurance company will begin an investigation immediately. They have specific steps and procedures when handling auto accident claims. They will try to obtain the police report, have vehicles examined, take photographs, and obtain recorded statements from the involved parties. This is done in an effort to assess damages so they can make an independent determination of what you are worth. Remember, they are not on your side, so the key is NOT to speak with them. They will twist every word you say in an effort to limit the compensation you are entitled and reach a quick settlement.
The insurance company wants to reach a quick settlement because they know that it is almost impossible to have a proper and accurate assessment of your injuries right after the accident occurs. The true value of a claim can only be assessed by a physician after the injured party has been thoroughly examined by the physician. In addition, some cases may require surgery or extensive treatment.
What Kind of Damages Can I Seek?
Since each case is unique, damages vary case by case. Depending on your case, you may be able to seek damages for:
1. Medical Bills
2. Pain and Suffering
3. Emotional Damages
4. Therapy/Psychological Services
5. Physical Therapy
6. Loss of Consortium
7. Rehabilitation
8. Lost Wages
9. Long-term Care
Injuries that may Result from an Automobile Accident
There are various injuries that may arise from a car accident. These injuries include:
1. Brain Injuries
2. Back Injuries
3. Loss of Limb
4. Psychological Injuries
5. Internal Injuries
6. Whiplash
7. Concussions
8. Broken Ribs
9. Spinal Cord Damage
Why You Should Contact Our Office
The Consultation is free whether you retain our office or not. If you decide to retain our office to represent you, the money still won't come out of your pocket. We get paid a percentage of the settlement, so we get paid if you get paid. We take the risk.
We assess what needs to be done and handle each case on a case by case basis.
If you don't have insurance, we will refer you to doctors and medical facilities that will treat you with the understanding that payment will be received after a settlement has been reached with the insurance company.
We want to take away the stress that can build up after an injury, so don't hesitate to contact us. You can speak with an attorney directly and discuss your options.