Trucking Accidents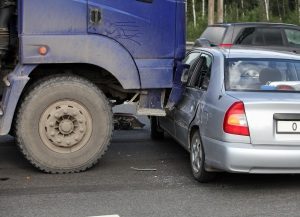 Driving on the roads and highways can be a terrifying experience within itself. When trucks, tractor trailers, 18 wheelers, and semi-trucks are added into the equation it becomes even more terrifying.
If involved in a collision with an automobile, the driver of the automobile can get severely injured or killed. Trucking accidents result in a large number of wrongful deaths, severe injuries, and dismemberments. The weight difference is what causes the extent of the damages.
Common Causes of Truck Accidents
Most truck drivers are required to drive long hours and are under a lot of pressure to get their loads delivered in a timely manner. Every truck driver should be aware of the required hours of sleep and the number of hours they can drive each day. However, sometimes to get the work done, the truck driver may decide to ignore the sleep and driving requirements. Unfortunately, this can lead to driver fatigue. In turn, fatigue can cause mistakes on the road and that can lead to an accident.
Why You Should Contact Our Office
The Consultation is free whether you retain our office or not. If you decide to retain our office to represent you, the money still won't come out of your pocket. We get paid a percentage of the settlement, so we get paid if you get paid. We take the risk.
We assess what needs to be done and handle each case on a case by case basis.
If you don't have insurance, we will refer you to doctors and medical facilities that will treat you with the understanding that payment will be received after a settlement has been reached with the insurance company.
We want to take away the stress that can build up after an injury, so don't hesitate to contact us. You can speak with an attorney directly and discuss your options.